Continuous hot water without high energy costs
The Mascot FT delivers quick heating response using an advanced fire tube heat exchanger. Wall mounted, cascadable design is adaptable to any size project. Use the LAARS Mascot Stock Board to check current stock availability.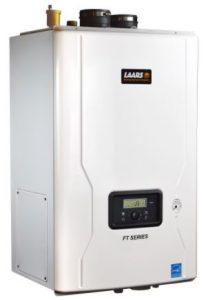 95% Efficient (AFUE)
Link up to 20 units
3 sizes available
Natural Gas & Propane Models
More Features
Up to 10:1 Modulation

Vent up to 100 ft in PVC, CPVC & Polypropylene
Environmentally Friendly
Low NOx Emissions
Integrated DHW Indirect Tank
Superior DHW Performance on Combi Models
Cascadable up to 20 total units
Enjoy the quick heating response, exceptional efficiency and years of reliable service that the Mascot FT delivers. Greatly reduce your home's heating cost when compared to older, low efficiency boilers!  Available as a wall hung or floor standing 'Combi' model that provides both heating and domestic hot water, and as a wall hung 'Heating Only' model.
Request a quote for the best boiler on the market, LAARS Mascot FT.