The City of Ithaca, NY is a small town in Central NY known for its commitment to environmental sustainability. Ithaca has committed to getting all of its electricity from sustainable sources since 2012. Solar water heaters were the obvious choice when a recreational facility in Cass Park was due for an energy-efficient retrofit. Frank P. Langley Co. provided Apricus solar panels in conjunction with the projects designers, Taitem Engineering, P.C.
Solar water heaters for any size application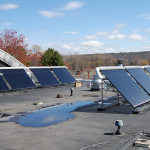 This solar water heater installation project was funded by US Federal energy grants. The eight collectors installed on the roof are Apricus AP-30C. The AP-30C meets and exceeds the requirements of the Buy American Act and is eligible for projects such as this funded by the American Recovery & Reinvestment Act. A single ETC-30 tube collector is ideal for residential households of 4-5 people, able to provide 60-80% of domestic hot water demand (depending on location).
The eight solar energy collectors mounted on the roof are feeding into two Niles 240 gallon tanks piped in parallel and subsequently to two gas water heaters. Using gas along with solar water heaters ensures low operating costs without any interruptions in delivery. Eight HD-25 heat dissipaters were installed in parallel on the east wall.
Are you thinking of investing in lower operation costs? Our expert sales staff can help you estimate ROI for your project. Talk to us!
Let us know how we can help with your next new build or improvement project.