ZEN (Zero Energy Nanotechnology) Building – SUNY Polytechnic Institute
Challenge:
To be in zen with oneself means to be in a total state of focus that incorporates a total togetherness of body and mind. That is what the ZEN Building at SUNY Polytechnic Institute set out to achieve. Standing for Zero Energy Nanotechnology Building, ZEN Building is the largest zero energy capable building in The United States. Supporting a wide range of R&D activities as well as hosting a large number of office spaces. With having a high-tech energy efficient being home to cutting edge developments finding a company that could meet their energy saving goals while still supplying enough domestic water through out the facility would be a huge challenge in the project.
Why Frank P. Langley:
Frank P. Langley has always been on the cutting edge of energy efficiency with our design and product lines. Coupled with our extensive design and product knowledge, as well as the ability to apply this experience in solving unique project challenges the engineer and contractor were able to identify the value of using a variable speed pressure booster in this application.
Solution: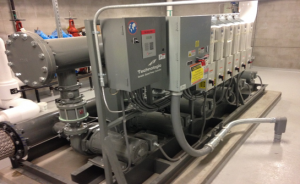 Langley provided a Bell & Gossett 6-Plex Technoforce Booster Package that is capable of reliably and efficiently supplying up to 4,320gpm of domestic water. The booster preformed beautifully and is now supporting the research and zero energy vision of the SUNY Polytechnic Institute's Zen Building.
Do your clients expect both high performance and energy efficiency? Find out how advanced products and expert design take your projects into the future.
Let us know how we can help with your next new build or improvement project.